Men's Garments Website Design for GrownClub
About the Project: Welcome to a showcase of our recent project – the website design for GrownClub. A leading ecommerce platform specializing in men's garments. In today's digital era, a compelling online presence is essential, and GrownClub sought to set new standards with a website perfectly tailored to their fashion-forward offerings.
About GrownClub: GrownClub is a well-recognized name in the world of men's fashion, committed to providing a diverse range of high-quality garments for modern men. Their mission is to enhance the online shopping experience for fashion-conscious individuals. When they approached us, they had a clear vision of a website that would effortlessly represent their commitment to style and customer satisfaction.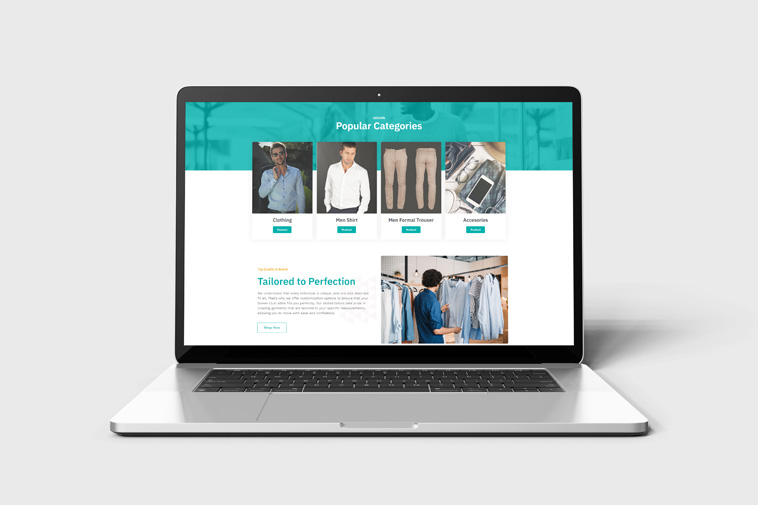 Our Approach:
Strategic Vision: We initiated the project by gaining a deep understanding of GrownClub's unique strengths and objectives. This allowed us to craft a design that seamlessly aligned with their mission.
User-Centric Design: Our primary goal was to create a user-friendly interface that effortlessly showcases their garments and simplifies the shopping process.
Modern Aesthetics: Our design embodies modernity and innovation, mirroring GrownClub's dedication to staying at the forefront of men's fashion trends.
Mobile Responsiveness: Ensuring accessibility for all users, we created a responsive design that adapts seamlessly across various devices.
Key Features:
Product Showcase: The website offers a comprehensive display of GrownClub's men's garments, allowing shoppers to explore their offerings in detail.
Customer Reviews: Real feedback from satisfied customers provides trust and credibility, assuring visitors of the quality of GrownClub's products.
Style Tips & Trends: Access to fashion advice and the latest trends in men's fashion in a dedicated section.
Seamless Shopping: User-friendly cart and checkout features streamline the purchasing process, making it easy for customers to shop with confidence.
Results: Our collaboration with GrownClub resulted in a website that perfectly encapsulates their commitment to providing top-notch men's fashion in the digital age. Enhanced user engagement, contemporary design, and seamless accessibility now align seamlessly with their mission.
Explore Our Portfolio: Discover more of our successful projects and envision how we can elevate your ecommerce business's online presence. Contact us today to discuss tailored web design solutions that drive results.